A cove light is a line of light that can obtained via a LED strip hidden from view inside a cove in the wall or ceiling. This illuminates an adjacent surface and light is reflected from it into the space that has to be illuminated. That is why lines of light are commonly known as cove or indirect lighting.
Cove lighting is beneficial trend to design lighting, with focus on human nature and how natural light behaves. It is today widely adopted, with lines of light as a principal way to illuminate many interiors.
The allure is the similarity with natural light. With the proper light source used, we could imagine that the cove is actually a hidden window to the outside from where sunlight flows in.
Lets explore how we can have the best results with cove lighting
1. Use energy efficient light sources
Pick LED modules or strips with high energy efficacy, at least 100 lm/w, and place them inside the cove light in a way that most of the emitted light reaches the reflective surface, such as a wall or ceiling. Wasting energy to illuminate the insides of the cove should be prevented. LED strips with 120-180° are recommended, placed, when possible, at an angle: 

Surfaces that are more absorptive than reflective, like dark paint or wood should be avoided unless the design is primordial to energy efficiency. White ceilings produce the best results.
2. Choose a LED light source with the right light output
Cove lighting can serve a variety of purposes. It can guide people, highlight architectural elements or evoke a certain design trend while providing ambient, general or task lighting. 
It is highly recommended that the purpose and role-played in the illumination of a space decide the type of light source to be used. The following luminous flux per meter value can serve as a useful guide:
Ambient light or highlight of objects or furniture elements: up to 500 lumens per meter (160lm per foot)
Highlight architectural elements: up to 900 lumens per meter or 300 lm/foot (many other light sources exist in the space)
General illumination via lines of light and task lighting via spot lights: up to 2400 lumens per meter (600 lm/foot), depending on the cove design and materials used. In many cases up to 1500 lumens per meter (500 lm/foot) is sufficient
Suggestion for length of cove of light for a living room of 20 sqm with 2.5m in height with the purpose of general lighting:
Lines of light with LED strip 500 lm / meter: at least 40 meters total length

Lines of light with LED strip 1000 lm/m: at least 20 meters total length

Lines of light with LED strip 2500 lm/m: at least 8 meters in total length
3. Use LED strips that are easy to install and have low redundancy of parts
The light sources have to be easily spread out over long distances and use as less auxiliary items as possible, for example wires, connectors, screws or transformers.  A large capacity transformer is recommended.
4. Use LED modules or strips with the best light quality, spectrum and color rendering index.
If a cove light is to be an imitation of daylight then it should be in almost all aspects, including light spectrum. 
Currently the closest match to the sunlight come from LEDs come with full spectrum technology, such as Nichia Optisolis and Seoul Semiconductor SunLike, both with almost day-like spectrum and maximum scores for all the CRI test colors. Their spectrum and how it compares to sunlight and other light sources can be seen below.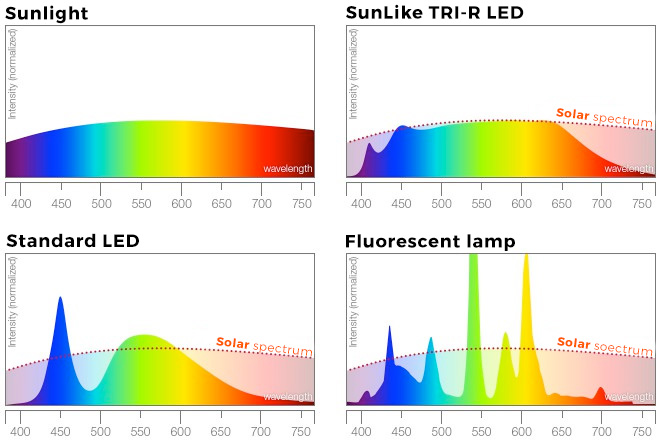 Choose LED strips with minimum CRI80 for all work and living places, such as office, living room, dining room bedroom and so on with CRI95+ as the recommended value.
5. Install LED modules or strips with the longest lifetime, the lowest color shift and best lumen maintenance.
Long lasting LED light sources with minimal color shift in time are recommended, especially for installations with considerable lengths. If the brightness of the light source fades too soon or the color temperature changes the total replacement of the installation could be the only solution for uniform lighting.
For example, if "LEDs 1" are used in the installation and the light changes as in the image on the right, replacing only some sections with "LEDs 2" will exacerbate the lack of uniformity, as in the image below.
A "rainbow" of shades of white is generally not desirable. Replacing parts of an installation can lead to such an outcome.
At Lumistrips you will find many flexible LED strips to build the best cove lights possible.
With our Nichia LumiFlex LED strip you will have lines of light with the highest energy efficacy and lifetime up to 200.000 hours. Minimum CRI for the LumiFlex is 80 with 90+ versions available also.
We also offer full spectrum LED strips with CRI97+ with SunLike Tri-R technology from Toshiba and Seoul Semiconductor, for the most natural lighting possible
You can also choose from our Plug & Play range of modules. 
The Multibar LED module is easy to install in your home or office, is very bright and comes with a CRI value of 95.
With the LinearZ modules you have access to the latest technology, future proof by using the Zhaga standard for easy future upgrades.